EIDOX SMART PAGE
Why do we need to make our company website a smart page?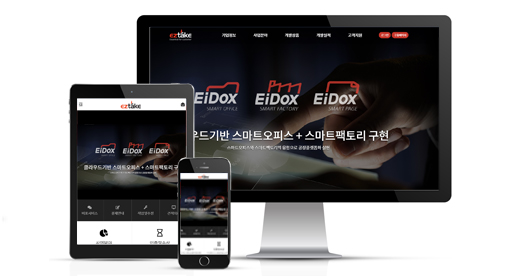 Homepage as a sales promotion platform
Promote your company's various promotional materials using channels such as YouTube and manage all promotional materials on the website.
It links various materials such as company introduction data, designee, product introduction, product proposal, service proposal, product and service catalog to the homepage.
When you need various forms with customers on the homepage, you can expect optimal effects by linking with EIDOX Smart Office (estimate, order, order, other request form, etc.).
Above all, it is to build a website suitable for our company, and the professional designer in charge will present the best planning and design in consideration of the customer's requirements and the characteristics of the company.
Responsive and optimized screens and features
This is the mobile era. Please use it as a sales tool to attract potential customers with services optimized for the mobile environment.
There is no need to build a separate mobile website because it is automatically optimized according to the screen size.
Various form formats that are difficult to be responsive can also be implemented in Smart Page.
Maintenance is convenient and modification time is shortened.
It is integrated and managed as a responsive all-in-one page, so editing is easy and time is reduced.
Maintenance costs can be reduced as well as being easy and quick to fix.
Ongoing maintenance
Easy Take has been servicing for 16 years since its establishment in 2003. Most of our trading partners have been long-term customers for more than 10 years.
We are doing our best for customer data and stabilization based on the best server infrastructure resources.
We provide the most basic domain, email, and website with ONSTOP.
Smart Page provides your company's independent e-mail all at once.
Real-time response is possible by connecting via e-mail and Kakao Talk with various online order and quotation forms.
Basically, we use Naver Webmaster Tools to help you optimize your search engine.