EIDOX SMART OFFICE
It can be customized according to the characteristics of our company's business.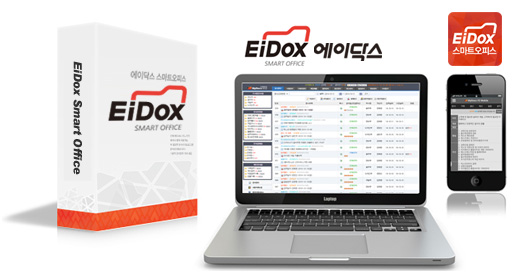 The following clients have recommended and selected EZTAKE from many IT companies as a suitable IT integrator
Companies that use ERP, but still rely on a separate Excel program because they do not fit their business environment
Companies that need a program suitable for their work environment separately from existing ERP or groupware
Companies that are burdened with expensive maintenance or customization costs
Managers and CEOs who need to read, review, approve, and write data anytime, anywhere due to frequent business trips or overtime
Companies that need internal reports and meeting minutes, customer request form, etc. for electronic approval, document management, item management, customer (customer) management, estimate and order management, claim management, schedule management, goal (performance) management, etc.
Simple, easy, productive and time-saving.
It is uncomplicated and simple in function, and it enhances work productivity and saves time with the same level of skill that was used in the past.
Web-based access is possible wherever the Internet is connected, and it can be used regardless of a specific browser or device.
Since it runs in a browser environment, there is no need for any PC software installation or update to use the program.
You can integrate and manage the forms continuously updated by EIDOX and the work forms produced and used by the company itself.
Compared to the existing ERP and key systems, it is intuitive and uncomplicated, and then users can use it easily without burden.
Reasonable cost and constant updates
No matter how convenient and useful the system may be, long-term continuous maintenance and security are very important. EZ-Take Co., Ltd. has been operating since 2003 with unchanging services to the present.
EIDOX's operation is fast, because all updates are centrally performed in the OneChange method, and there is no additional cost for updates, and the system is maintained at its best through frequent and regular updates.
The price per user is reasonable and efficient, and the cost is also set at half that of other companies.
Mobile environment support
It can be used not only on PC, but also on various devices such as tablet and mobile.
You can view, review, approve, add comments, and write real-time documents in any work situation, such as on-site, out-of-work, or business trip.
With the interface configuration optimized for the mobile environment, you can easily use e-mail, phone calls, messages, etc. to manage business partners (customers).
Materials that need to be recorded and preserved in the field can be attached to the document after taking a photo through the attached file.
Can you trust and entrust our company's valuable data?
EZ Take Co., Ltd. was founded in 2003 (as of 2018) and has been operating IT services for 16 years.
Maintenance Most of our customers are long-term customers for more than 10 years.
EIDOX Server is operated at KIDC Seocho 1 Center in Seocho-dong, Seoul, and has been consigned and managed by Hanbiro, Korea's top server management company, for 16 years.
Data is backed up on a regular basis on Wednesdays according to the backup policy, and full backups are made every Saturday to ensure data security and safety.